Frequently Asked Questions
AppliCad crashes whenever I try to print a Microsoft Word template I created.
---
This can be caused by a number of things.
Probable Cause #1
Most commonly this problem occurs with users running Microsoft Office 365 which runs in 'the cloud'. It has a heap of features that have been taken out to enable this to happen, such as the ability read in an EPS type image. This is a key file format to Roof Wizard producing an image on a report. Some of the newer versions of Microsoft Word such as Word 2015 have options to turn EPS imports on or off. You may need to contact your IT person to make sure that this ability is turned on.
Probable Cause #2
The other reason this can occur is that the copy of Office/Word you are running hasn't been activated. If this is the case you will likely be getting a message similar to the following when the software tries to print: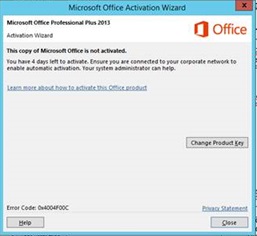 To fix this you will need to activate the copy of Office / Word with Microsoft.
To check the status of your MS Office license, open the application, in this case MS Word, go to File > Account. You may have to go digging for the details you need. In the version displayed below, select the Hide/Show additional license information. You will see what needs to be done as shown here...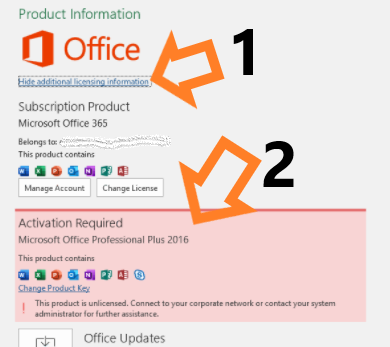 ---
back
---